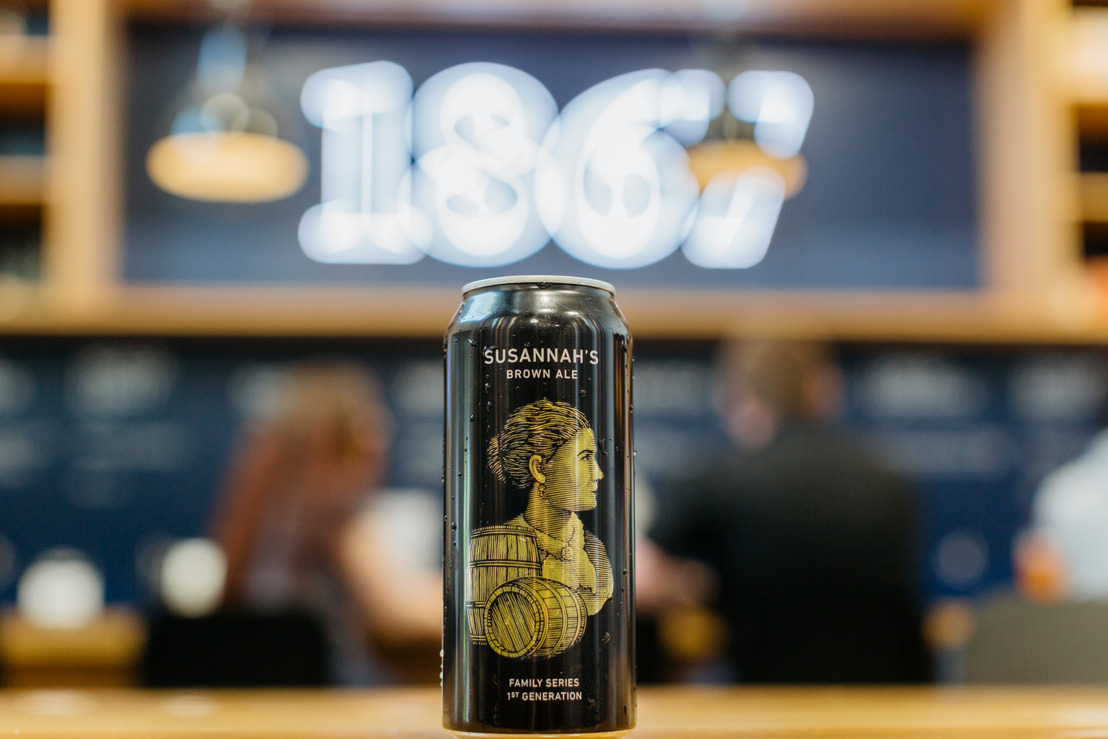 MOOSEHEAD CELEBRATES THE BEER THAT STARTED IT ALL
Susannah's Brown Ale, first brewed by the company's founder and matriarch, will launch in-store in select provinces
Wednesday, July 17, 2019 — [SAINT JOHN, NB] – Moosehead Breweries announces the retail release of Susannah's Brown Ale, inspired by the original recipe brewed by Susannah Oland, Moosehead's founder and matriarch. The beer has been available exclusively on draught at Moosehead's Small Batch Brewery in Saint John - but now fans across the East Coast will have the chance to take this historic brew home.
"The retail release of Susannah's Brown Ale is unbelievably special to the team at Moosehead, and to me and my family personally," said Andrew Oland, President and CEO of Moosehead Breweries. "This company is steeped in history, and every one of our beers plays a role in telling our story. But it's certainly not every day that you get to re-introduce your great-great-great grandmother's beer. Being able to share her story through the release of this historic brew is especially meaningful to me."
When the Oland family travelled from England to their new home in Dartmouth, Nova Scotia in 1865, they brought with them the recipe for the family's October Brown Ale. Susannah began brewing the recipe in her backyard, but high demand led to the opening of the Turtle Grove Brewery on October 1, 1867. The road from that first brew to the Moosehead of today wasn't easy, and between the opening of that first brewery and her death in 1878, Susannah fought hard to keep the brewery alive - leading the company through her husband John's unexpected death and a ferocious fire that gutted the brewery. Susannah's Brown Ale is a nod not only to Moosehead's original recipe, but also to the resilience of the woman who started it all.
Susannah's Brown Ale will be available in 473mL cans in retail stores across New Brunswick, Nova Scotia and Prince Edward Island beginning this month - an illustration inspired by a photo of Susannah graces every can. This English Brown Ale boasts rich malty flavours, light chocolate and caramel notes, with a balanced bitterness and 5.5% alcohol by volume.
The ale is the first beer introduced in the brewery's new "Family Series", each of which will highlight a different Oland family member and their contributions to the company. The Family Series is the third beer series released through Moosehead's Small Batch Brewery since opening in June 2018. The Small Batch Brewery has produced over 30 different brews to date, eight of which have been available at retail outlets across Canada.
To stay up to date on information related to the Small Batch Brewery, visit moosehead.ca.
Moosehead Breweries is Canada's largest and oldest independent brewer. Founded in 1867, the same year as Canada, the brewery is privately owned and operated by the sixth generation of the Oland family.
- 30 -
For more information:
Angela Maxwell, Craft Public Relations
angela@craftpublicrelations.com | 416-702-6243