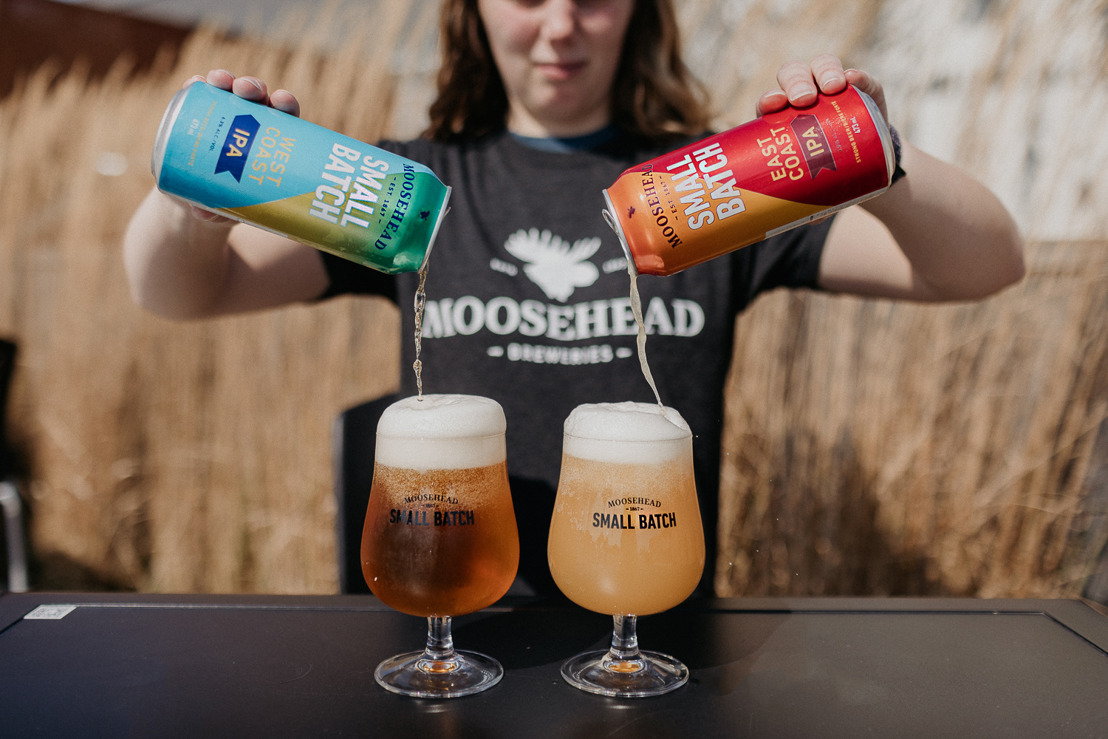 MOOSEHEAD EXPANDS SMALL BATCH PORTFOLIO IN TWO DIRECTIONS, WITH LAUNCH OF EAST COAST AND WEST COAST IPAS
Not all IPAs are created equal: dual launch is designed to highlight key differences between the two styles
November 17, 2020 - [Saint John, NB] – Moosehead Breweries has introduced two new beers under their Small Batch umbrella - an East Coast IPA and a West Coast IPA, with the goal of engaging beer lovers in debate and dialogue over the two styles. The West Coast IPA boasts a full hop-forward flavour, while its East Coast counterpart is less bitter, with fruitier characteristics.
"At our Small Batch Brewery, we believe that every brew has a story - and with this launch, we're actually able to tell two tales," said David Pearn, Innovation Brewer, Moosehead. "West Coast and East Coast IPAs have grown in popularity in recent years, and we're excited to give beer fans the chance to try them together and appreciate their differences. We hope this launch helps challenge preconceived notions around how an IPA is 'supposed to' taste, and encourages beer lovers to decide for themselves which coast truly does it better."
West Coast IPAs belong to an ever-evolving category loosely characterized by aggressive bitterness, intense hop aroma, and higher-than-average alcohol content. These IPAs have played a critical role in growing the craft beer industry in North America - and beer-lovers often equate their specific flavouring amongst the traditional IPA category. Conversely, East Coast IPAs have been widely credited with opening up the IPA category more broadly to consumers who shy away from bitter beers with a strong hop.
Moosehead's West Coast IPA has a huge hop aroma, bursting with notes of citrus and tropical fruit. Its malt character is understated, with a dry finish to let the layered hop flavours and aromas take center stage, making it a bitter, crisp and clear brew.
Moosehead's East Coast IPA is less bitter than its West Coast rival. Late additions of hops to the brew and dry hopping in the fermenter results in a lower bitterness and helps to preserve the hop's delicate, citrusy and fruity essential oils, allowing them to shine.
Both IPAs are now available at retail locations across Atlantic Canada, as well on-site at Moosehead's Small Batch Brewery, in the company's historic West Side brewery at 89 Main Street West in Saint John. Moosehead fans are encouraged to pick a side in the duel by sharing their opinions of the brews on social media using the hashtag #EastVsWest.
                                                                                      - 30 -
Angela Maxwell Craft Public Relations